Lower Hutt Property Sales Data

| | | | | | |
| --- | --- | --- | --- | --- | --- |
| SUBURB | MONTH | YEAR | DWELLING MEDIAN SALE | DWELLING COUNT | DAYS TO SELL |
| Alicetown | May | 2017 | $ 557,500 | 8 | 21 |
| Avalon | Jul | 2017 | $ 594,000 | 10 | 26 |
| Belmont | Jun | 2017 | $ 513,125 | 6 | 34 |
| Boulcott | Jun | 2017 | $ 699,750 | 4 | 27 |
| Eastbourne | Jul | 2017 | $ 625,000 | 5 | 69 |
| Epuni | Jun | 2017 | $ 553,500 | 4 | 40 |
| Fairfield - Lower Hutt City | Jul | 2017 | $ 420,000 | 5 | 21 |
| Kelson | Jul | 2017 | $ 540,000 | 4 | 36 |
| Korokoro | Dec | 2016 | $ 597,500 | 8 | 22 |
| Lower Hutt Central | Jul | 2017 | $ 805,000 | 5 | 37 |
| Maungaraki | Jun | 2017 | $ 605,329 | 6 | 28 |
| Moera | Dec | 2016 | $ 461,000 | 4 | 34 |
| Naenae | Jul | 2017 | $ 411,500 | 13 | 26 |
| Normandale | Oct | 2016 | $ 565,000 | 4 | 22 |
| Petone | Jul | 2017 | $ 602,000 | 15 | 42 |
| Stokes Valley | Jul | 2017 | $ 429,750 | 14 | 23 |
| Taita | Jul | 2017 | $ 437,300 | 8 | 28 |
| Tirohanga | May | 2017 | $ 760,000 | 5 | 54 |
| Wainuiomata | Jul | 2017 | $ 350,500 | 26 | 29 |
| Waiwhetu | Jul | 2017 | $ 467,500 | 4 | 31 |
| Waterloo | Jun | 2017 | $ 560,000 | 8 | 21 |
| Woburn | Jul | 2017 | $ 1,045,000 | 3 | 32 |
Source REINZ.
The median house price is the midway point of all the houses/units sold at market price (or sold amount) over a set period (monthly, yearly, quarterly, etc.). That is, if there were 101 houses sold during the month, the median house price would be the house price in the middle i.e., that has 50 house prices above it and 50 house prices below it.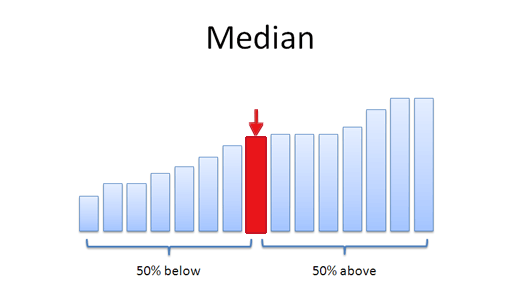 This differs to the mean price, which equates to the average price—adding the sold prices together and then dividing this by the number of sales.
Why not find out how much your home is worth in today's market with a free no obligation market appraisal?
Fill out the form below and let us know if you would prefer a phone call or an email...